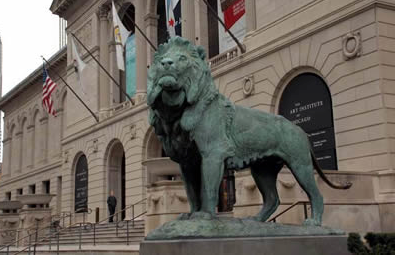 The Lion at the Art Institute of Chicago.
Constantine John ("Chris") Gekas concentrates his practice on the preparation, trial and appeal of cases in a wide variety of substantive areas. Among Chris' greatest strengths is his ability to break down complicated legal issues and convey them to judges and juries in a sensible, straightforward manner.
A veteran trial lawyer, Chris has tried 70 jury trials to verdict and has handled countless other contested non-jury evidentiary hearings and trials before federal, state, administrative, arbitration and mediation tribunals.
He is also an deeply experienced appellate lawyer having briefed and argued numerous cases in appellate courts throughout the country, obtaining landmark decisions in important and diverse areas of the law. 
Chris' experience includes all manner of disputes including those involving securities, commodities and derivative investments, insider trading, academic research misconduct, trade secrets, construction and real estate, patents, inventorship, computer fraud and abuse, insurance coverage, and others described below and in his list of Representative Matters.
In addition, his training and experience as a civil and criminal prosecutor as well as his military training and experience provide a special sophistication in his investigation of the complex facts that almost always underlie the cases he handles.
In addition to his litigation practice, Chris regularly advises clients on a variety of transactional matters, including business, real estate and other types of contract negotiations and pre-and post employment negotiations for employers and high level executives and employees.
Chris is rated AV by Martindale-Hubbell's peer review rating system, the highest rating available. He is also recognized as a Super Lawyer for 2022 and Who's Who in American Law.
Summary of Experience
Case results depend upon a variety of factors unique to each case, and do not guarantee or predict a similar result in any future case.
Public Service. Chris gained a breadth of experience working in the public sector.  
After commencing his practice at a leading antitrust firm in Chicago, he served as an attorney in the Criminal Division of the U.S. Department of Justice, and, for four years, as an Assistant United States Attorney in the Washington, D.C. where he handled a wide variety of criminal and civil trial and appellate matters on behalf of the United States. 
Thereafter, he served four years as Regional Counsel for the United States Commodity Futures Trading Commission Division of Enforcement (CFTC) where he was responsible for enforcement actions for violations of the Commodity Exchange Act involving commodities and related investments throughout the central United States. 
Congressional Experience.  Chris served as counsel to the Committee on the Judiciary of the United States Representatives including as Counsel to the 1974 Impeachment Inquiry of President Richard M. Nixon. See H. Report No. 93-1309, Committee on Judiciary, U.S. House of Representatives, 93rd Cong. 
As Associate Counsel to the Subcommittee on Crime he was instrumental in the passage of important legislation including the Speedy Trial Act. See Hearings on Speedy Trial Act, Subcommitte on Crime, U.S. House of Representatives, 93rd Cong.
Litigation.  Chris has extensive experience in the investigation and trial of contested matters before various tribunals: juries, judges, arbitrators, mediators, and administrative decision makers. In short description, Chris is a deeply experienced trial lawyer.  The cases he concentrates on run from the simplest dispute to massively complex cases in a variety of areas; intellectual property, commercial disputes of all kinds, employment discrimination, scientific and medical research misconduct, medical equipment and service distribution and sale disputes, inventorship, commodities, securities, insider trading, CFTC and SEC enforcement actions and related criminal prosecutions, commercial and residential real estate and construction and supply disputes, among others. Chris has over 80 reported decisions in cases from around the country.
Commodities & Securities. Starting with his tenure as Regional Counsel for the CFTC, Chris gained broad experience in all manner of cases involving commodity, securities and related investments.  Supervising an office of 10 lawyers, he filed enforcement cases involving wrongdoing by commodity pool operators (CPO), commodity trading advisors (CTA), futures commission merchants (FCM), commodity and securities brokerage houses, and individual CFTC registrants, including associated persons (AP). Among other cases, his office broke up what was at the time was the largest commodity pool fraud in Northern Illinois, Financial Partners Brokerage Ltd.  He also filed the case that led to the landmark Supreme Court decision on attorney-client privilege in Commodity Futures Trading Comm'n v. Weintraub, 471 U.S. 343 (1985).
In private practice, Chris has litigated extensively in both commodity and securities cases, representing numerous market participants in various types of suit, including, for example, arbitration on behalf of an international commodity broker (FCM) against a large international sugar trader involving a forced liquidation and violation of position limits, defense of insider trading suit by the SEC brought in Chicago federal court, the defense at trial of an Introducing Broker (IB) and its Associated Persons (AP) brought by the CFTC in federal court in Tampa Florida, defense of a CTA in a National Futures Association (NFA) arbitration, defense of a CTA in a CFTC reparation action and appeal, and prosecution of lawsuits by defrauded investors against various market professionals to recover lost investments. He has also represented witnesses subpoenaed for investigative testimony by the SEC. He defended a hedge fund administrator against securities fraud claims by a private investor in South Carolina federal district court. He represented an exchange floor clerk in a criminal trade allocation case in Houston federal court, and related administrative and subpoena enforcement actions by the CFTC. He also represented a group of investors from across the country in a massive international commodity pool investment fraud case in Chicago federal district and bankruptcy courts.
Intellectual Property, Patents. Chris has significant experience in cases involving intellectual property augmented by his Master of Laws degree in Intellectual Property. He has defended a cardiac defibrillator manufacturer against patent infringement in Minnesota federal district court, and was Local Counsel for a defendant in a computer assisted medical transcription software patent infringement action in Illinois federal district court. More recently, he represented an inventor in an inventorship action in federal court that resulted in the landmark inventorship standing ruling by the U.S Court of Appeals for the Federal Circuit described below. He also served as appellate counsel for another inventor in an inventorship case in the Federal Circuit and at the certiorari stage in the Supreme Court.
Trade Secrets. Chris has handled non-competition and theft of trade secrets cases for both employers and employees. He represented a hedge fund administrator in federal district court against a former employee who absconded with confidential client information. In another case, he represented a former officer of an LED manufacturer in a non-competition and trade secrets action. He also defended a national agricultural products distributor against theft of trade secrets and Computer Fraud and Abuse claims in federal district court. As part of this practice, Chris regularly advises both employers and employees on employment matters related to trade secrets and non-competition agreements.
Research Misconduct. Chris has significant involvement in the newly emerging area of scientific and research misconduct stemming from federal regulations promulgated by the Office of Research Integrity (ORI) of the U.S. Department of Heath & Human Services (HHS) (42 C.F.R. § 93.100 et seq.) governing the  federally funded research. He represented an internationally renown physician/scientist falsely accused of research misconduct in university disciplinary proceedings and in defamation and indemnification cases Chris filed on his behalf in Cook County Illinois Circuit Court that resulted in a landmark appellate decision of Illinois Appellate Court establishing qualified privilege for defamation claims in academic research misconduct proceedings in Illinois.
Employment Law. Chris also accepts a select number of employment law cases for both employees and employers, both administratively before the EEOC and Illinois Department of Human Rights, and in federal court. In addition to the Walters decision of the United States Supreme Court refererred to below, for example, he defended a construction products distribution company against Age Discrimination claims by a former salesman in Chicago federal court.  He represented a medical supply warehouse manager in a harassment and discrimination case in Chicago federal court that resulted in the important appellate decision referred to below. As part of this practice, Chris advises employers and employees on pre- and post-employment contract negotiations and separation agreements.
Construction and Real Estate. Chris also has significant experience in construction and real estate matters. As trial co-counsel in Cook County Circuit he represented an owner/developer against a general contractor in a contract dispute arising from a troubled high-end condo conversion. He served a trial co-counsel for a shopping center owner in breach of contract dispute with a prominent tenant in the Circuit Court of McHenry County, Illinois.  He was lead counsel for owners in two-week trial in the Circuit Court of McHenry County, Illinois in a flooding and constitutional takings case against a municipality. He was Local Counsel for an international general contractor against an electrical subcontractor in a Cook County Circuit Court case involving a large-scale commercial building retrofit in Chicago's Gold Coast neighborhood. He was co-counsel for an owner against the general contractor in a Phoenix AZ Superior Court lawsuit over the restoration of a historic home in a Central Phoenix Historic District. He has filed quiet title actions in Chicago federal court and Will County, Illinois Circuit Court.
Medical Products & Services. Chris has handled a variety of disputes in the medical products and services area, including representating manufacturer of a vital signs monitor against a distributor before the AAA, representation in Philadelphia federal district court of a co-owner of a surgical video monitoring system against the principal owners of the company for fraud and breach of fiduciary duty, and representation in Houston federal district court of a marketing agent of newly emerging DNA diagnostic laboratory testing services against the testing lab, and representation of a medical imaging company against competing medical service providers for unfair competition and theft of trade secrets. 
Miscellaneous Commercial Litigation.  Chris has extensive experience in other types commerical disputes, for example in a Fair Debit Collection action for a mortgagor in federal district court, the defense of a Washington, D.C. veteran's service firm against a breach of fiduciary duty action by an investor, defense of a Telephone Consumer Protection Act case, a real estate quiet title action for a landowner, and a prosecution of defamation action, all in Chicago federal district court.
Criminal.  For a couple of years after reentering private practice, Chris often accepted criminal cases in federal court. Since then he will only accept a criminal case in one of his areas of civil practice, commodities and securities. Thus, as stated above, he defended an exchange floor clerk in a criminal trade allocation case in Houston federal court.  He is therefore willing to consider accepting criminal cases in those areas. Moreover, given the nature of cases in this area, and given his experience as a prosecutor and defense attorney, he is almost always called upon to give advice on the criminal implications of the civil enforcement cases brought by the CFTC and SEC that he defends. This forms an important part of his work in those areas.
Appellate Experience.  Chris is a very experienced appellate advocate, having briefed and argued over 40 appeals in federal and state appellate courts across the country. For example, he recently prevailed in the landmark inventorship decision of the U.S. Court of Appeals for the Federal Circuit in Shukh v. Seagate Technology, LLC, 803 F. 3d 659 (2015), that established an important new basis for inventors' standing to seek correction of inventorship under the Patent Act. In Naeem v. McKesson Drug Co., 444 F.2d 593 (7th Cir. 2006), after obtaining a significant jury verdict for his client, he established the parameters of intentional infliction of emotional distress in the employment context.
One of his more notable victories is Walters v. Metropolitan Ed. Enterprises, Inc., 519 US 202 (1997) in which the  Supreme Court determined the jurisdictional reach of Title VII of the Civil Rights Act of 1964. In the Supreme Court's Board of Trustees of Leland Stanford Junior Univ. v. Roche Molecular Systems, Inc., 563 U.S. 776, 803 (2011), Chris authored an authoritative amicus brief that Justice Breyer cited with approval which outlined a novel theory of patent ownership that is sure to be the subject of future judicial development on patent ownership and inventor standing to seek correction of inventorship. He has also represented others in the certiorari stage of cases in the Supreme Court and is thus conversant with the rules and procedures of that Court.
In other appellate matters, he has represented a commodity trading advisor (CTA) in the U.S. Court of Appeals for the Fourth Circuit, an Introducing Broker (IB) and its Associated Person (APs) in the Eleventh Circuit, and defrauded commodity investors in the U.S Courts of Appeals for the Seventh Circuit and Ninth Circuits.  
His early appellate experience as a prosecutor includes United States v. Moore, 613 F.2d 1029 (D.C. Cir. 1978), which established the elements of the defense of recantation in a federal perjury/false statement prosecution, still cited as controlling law by the Department of Justice. 
Local Counsel.  Chris often serves as Local Counsel in the Illinois federal and state courts to assist out-of-town lawyers and their clients in navigating the local judicial customs and practices, sometimes appearing in the cases and other times remaining of counsel without appearance. He served in that latter  capacity in an insurance coverage dispute, and in the former in defense of a Fair Credit Reporting Act case, both in Chicago federal district court. He also appeared as Local Counsel in Cook County Circuit Court for the contractor in the commercial buildling retrofit case referred to above. 
Click this link for a partial list of Chris' representative matters.